LISTEN IN HERE:
https://www.mixcloud.com/Unlikely-Places-Pop-Rock-Radio/upprrxmwr-050-upprr-turns-50-weeks-old-oagjebbs-dad-sotw-maple-mars-goodbye-california/
Ooh-wee-oooo—hey, didn't see you there!
Yet another week of me being stuck in here has passed. I gotta wonder how many people have been stuck in here before me, because the floorboards reek. You'd think that they'd be changed periodically.
Anyway, my last show had some chart-toppers, and here they are: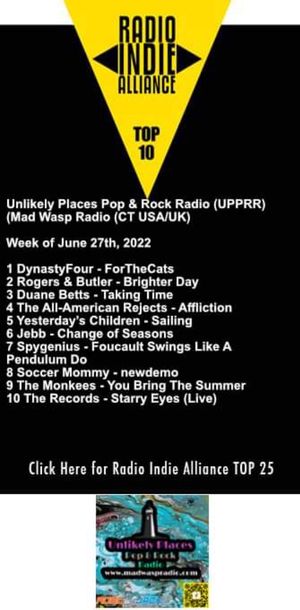 Today's theme hits very close to home on my end. I thought I'd chat with my pops about concerts we've shared over the years. I'm rotting away in this digital scape, so who knows if we'll ever get to see another show together? Luckily, I was able to call out to him from where I am, but told him to keep my location a secret. I feel like Mike Teavee when he gets zapped by Wonkavision.
Major thanks again to my dad for guesting, and sharing his stories. I'm not hopeful, but maybe the past will be the key to getting me out of here.
Here are the details for today's show, which airs at 1pm ET 6/28, over on Mad Wasp Radio.
https://www.madwaspradio.com/
FULL DETAILS: 
UPPRRXMWR 050 "" (SOTW: Maple Mars - Goodbye California) 
Air date: 
June 28th, 2022 6-8 pm GMT/1-3pm ET/ 10-12pm  PT (Tuesday) 
Re-airing: June 30th, 2022 8 am GMT/3-5am ET/12-2am PT (Thursday): 
https://www.madwaspradio.com/ 
Official Unlikely Places Website Page Here: 
https://robojackrecords.com/unlikely-places-pop-rock-radio 
Posted after to Mixcloud (Thursdays): 
https://www.mixcloud.com/Unlikely-Places-Pop-Rock-Radio 
Podcast here: 
https://anchor.fm/unlikely-places-podcast 
Tracks: 
The Posies - Unlikely Places 
Klaatu - A Million Miles Away 
Fotomaker - All There In Her Eyes 
Collective Soul -  Heavy 
The Figgs - Back in '78 
The Shellye Valauskas Experience - Leftover Mistake 
Smash Palace - Juliet To Me 
Alice Cooper - Muscle Of Love 
Cheap Trick - Ain't That a Shame (Live) 
Badfinger - I Don't Mind (Live) 
The Byrds - Mr. Tambourine Man (Live) 
Frank Zappa - Black Napkins 
REO Speedwagon - Take It On the Run 
Cliff Hillis - Let's Pretend 
John Ford - Another Tradition Broken 
Edward Rogers - What Happened To Us 
The Monkees - The Door Into Summer 
Paul McCartney - I've Just Seen A Face (Acoustic Live) 
The Moody Blues - I Know You're Out There Somewhere 
Matthew Sweet - We're The Same 
Maple Mars - Goodbye California 
The Edgar Winter Group - Someone Take My Heart Away 
Judas Priest - The Hellion/Electric Eye 
The Rolling Stones - Wild Horses 
Jebb - Isolated Dew (feat. Frankie Siragusa)