As I sit here reflecting on one of the most extravagant weeks of my life–which passed us by a lot faster than I thought it would–I realized it was more than just any of the three Mountains at Magic Kingdom that had my heart racing, palms sweating, and brain screaming. It wasn't just the All-American Rejects playing their mega rarity "There's A Place" at the show that guitarist Nickolas Wheeler got us into for free that made my adventure to Florida one hell of a week. It was a mess, but the most beautiful, extravagant mess I've ever partaken in. 
Before I tell you every nook and cranny about what I experienced, I want to thank Josh Bradley and his family for the housing, and for helping me see a different side of life in their homestate. Also, major thanks to my dad for helping pay for this trip, and to my mom, who was kind enough to provide emotional support when I needed it. 
This is how I felt in the days leading up to my first flight, and probably the biggest adventure I've ever had. 
Anyways… 
11/8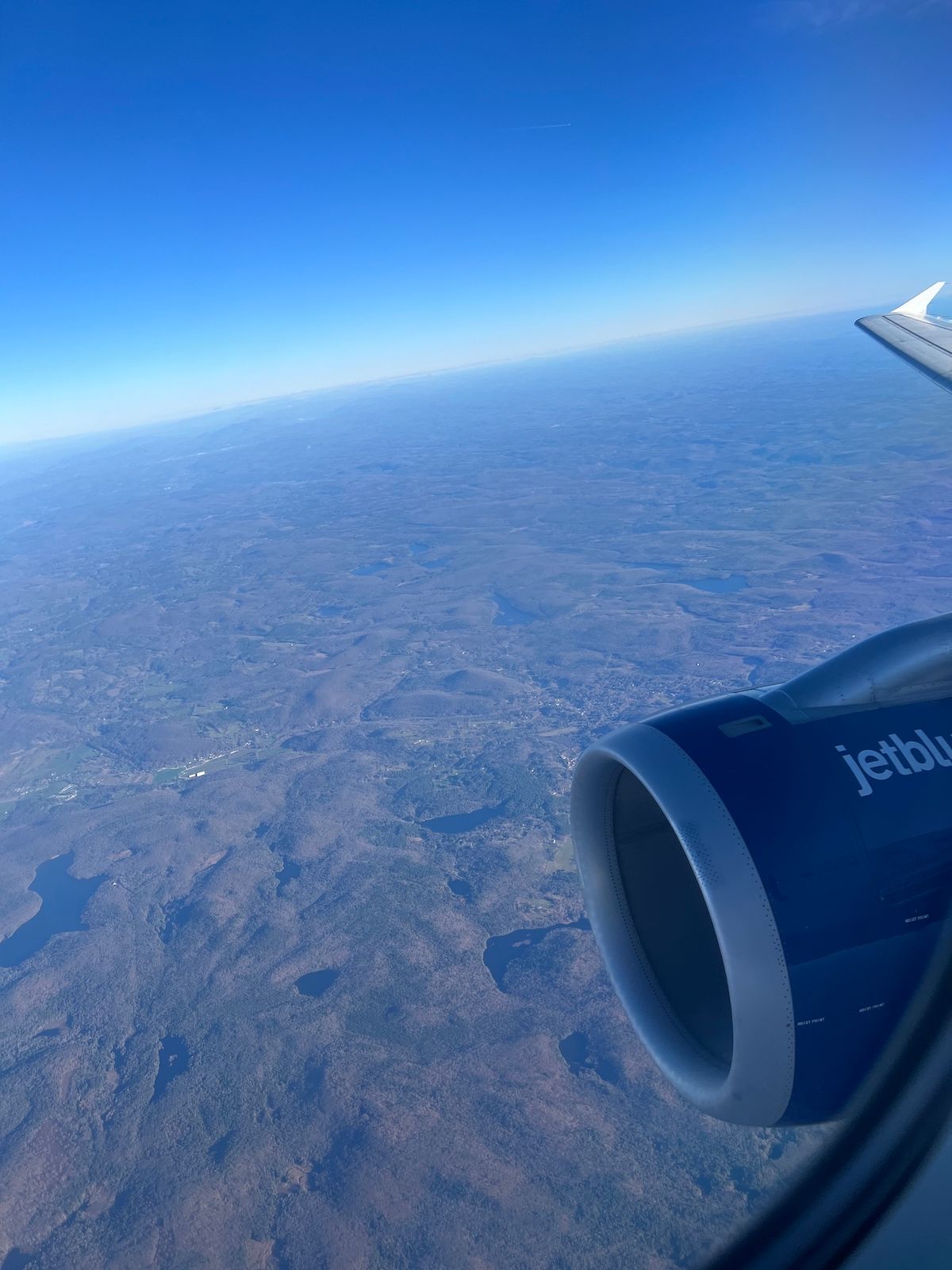 I think Josh was more nervous about picking me up from the airport than I was of flying for the first time, even with a wakeup time of 4:30 a.m. I had a Big Breakfast with Hotcakes from McDonald's, my parents dropped me off at Bradley International Airport, and around 8 a.m, the JetBlue flight began to line up, the thrusters hit as I was forced into a flight position of head to the seat, and my eyes became glued to the disappearing ground below. Smell 'ya later, New England! 
The flight was short, only about two and a half hours, which ended up being about 40 minutes ahead of schedule. I loved every minute of the flight. I chewed gum, watched Avatar on my phone thanks to FlyFi, and I even managed to score a window seat. Talk about beginner's luck, huh? 
I landed in Tampa around 10:45, and quickly met with Josh. I was content to be in a new land, the state of Florida. Josh and I got some late breakfast/early lunch in Tampa International Airport's food court, and admired the airport's new gigantic flamingo statue. Before long, I had my bags, we piled into Josh's rental car (his car was getting repaired in a shop following a fender bender five days prior), and headed to his house so I could drop everything off. 
Once we got back, Josh led me to his bedroom, and showed off his Funko and Lego collections, as well as his record collection that originally brought us together all those years ago (thanks, Instagram.) Not to mention all the sick concert posters and photos from over the years, and framed interviews with Alice Cooper and Al Jardine of The Beach Boys all over his walls.  
About an hour of catching up passed by, and Josh decided to drive me to Emerald City Comics, a local comic and toy store where I managed to pick up a pack of Magic: The Gathering cards, as well as a blindbag "Lord of the Rings" keychain. I ended up with Pippin, while Josh, who also got a keychain, scored Gandalf. We soon headed for dinner at his former place of work, Craft Street Kitchen Oldsmar. We shared the Tampa Hot Chicken Sliders as an appetizer, and for our entrees, I tried the Three Kings Burger, while Josh tried the Crueban, off of the specials menu. 10/10 to say the least. 
I finally met Josh's parents after dinner, and we sat around the dinner table for about 30 minutes as I told them a bit about what I do. His brother Ian got home from his job at Wendy's while the two of us watched "Weird: The Al Yankovic Story" on Roku, which I had been meaning to watch. I loved every minute of it. Great cameos, too. 
11/9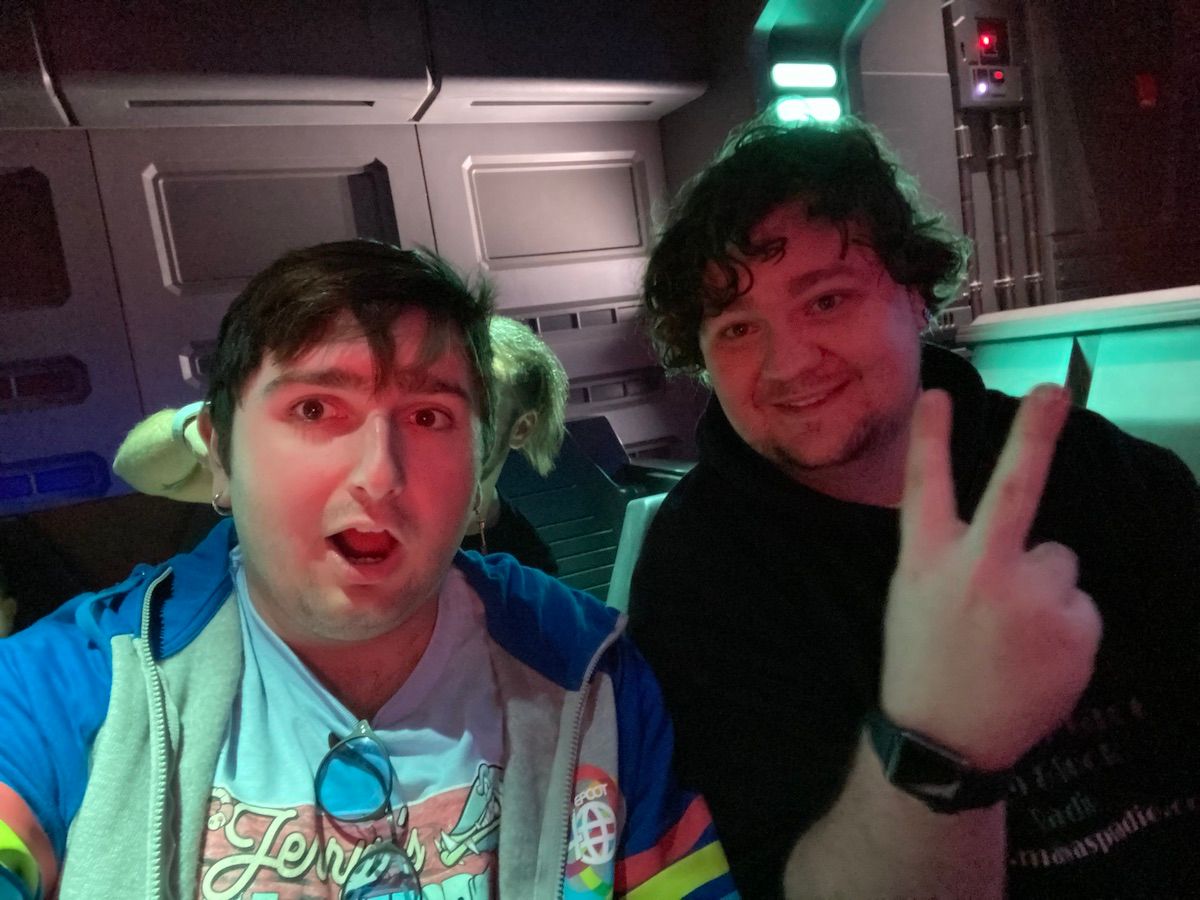 Wednesday morning, Josh and I got up at the crack of dawn, packed the car with our bags, and headed for Disney's Hollywood Studios, which started a three-and-a-half-day adventure in Orlando. 
There was a bit of a burden, though. Due to the impending Tropical Storm Nicole, we would find out later that all Disney parks would be closing a few hours early, with Hollywood Studios closing up shop at 6:00. This frustrated the hell out of Josh, but on my end, I was glad just to be at Disney, and didn't care about leaving early. It was going to be an amazing time, regardless of the weather. 
As soon as we got through security, scanned our tickets/MagicBands, I bought an R2-D2 earhat, as well as a 50th anniversary pin. Though it's an 18-month celebration, you only turn 50 once, you know. Once I was checked out, there was no time to lose. We headed straight for Galaxy's Edge to get in line for Star Wars: Rise of The Resistance. It was going to be a god awful wait time, but the way the queue line was designed only pumped me up even more. Seeing those relics, weapons, and outfits from the sequel trilogy was amazing. After about an hour of waiting, the ride did break down for about 20 minutes. Had I been on it, that would have been a perfect opportunity to shoot and send a video to TPM Videos, my favorite YouTube channel for Disney World ride breakdowns. We finally got to the front of the line, and got to experience what it was like to be captured by the First Order, and brought to Kylo Ren. My favorite part was being locked in a cell, and a lightsaber cutting a door-sized hole in the wall. As expected, the Resistance saved us, and the ride part of the experience began. 
I have a small knot in my stomach, though: I don't like when rides suddenly drop at all, hence why we're skipping the Twilight Zone Tower of Terror today. And Josh told me ahead of time that there is a drop near the end of Rise–which helps take you back to Batuu–but he promised to warn me when it was about to happen. Sure enough, I felt the drop, but was nonetheless hyped to continue rides at Hollywood Studios after that. But first, Josh was getting hangry, and I had just faced a fear, so we needed to find a victory lunch. 
The Ronto Wraps in Galaxy's Edge sounded really good, but there was nowhere to sit, since everyone was keeping cover underneath the roofed outdoor eating area. And with the wind and rain popping its head in and out, there was no way we were going to walk around with messy Ronto Wraps. So, we took a break and checked out the Batuu Marketplace first. 
I bought a white traveler hoodie there, which I ended up loving because of the rounded hoodie style. It sort of reminds me of a very light poncho. Josh and I also bought a few tiny stuffed Porg keychains, which Josh absolutely refused to leave the premises without. I'm not as much of a freak for Porgs as Josh is, but it was too adorable to pass up. Plus, I dare you not to spend any money in Disney.  
Once we had our new swag, we headed towards the Muppets area, just outside of Galaxy's Edge, and stopped for pizza at Pizzerizzo, which used to be a Pizza Planet a million years ago. While eating, we were worried that the park was going to close altogether the next day due to the storm. Like I said, I was fine with that, mainly because I was glad just to be there, and of course, the feeling of being blown away by the pure awe and magic of Disney. But Josh was getting worried that he wouldn't be able to show me all that Disney had to offer because of Mother Nature.  
Once we were done with lunch, we decided to head over to Muppet Vision 3D, which was damn amazing to say the least. I've been a big fan of Kermit and the gang since I was young, and to see the Muppets in all their 3D glory was amazing. Oh, and not to mention that Sweetums actually came out into the audience. If I were younger, I'd definitely believe that I was actually in the Muppets' presence. Maybe one day, Dr. Teeth and the Electric Mayhem will tour and stop in Connecticut. But until then, this is the closest I'm gonna get. 
What came next was a bit of a blow, but I don't regret a second of it. 
Star Tours is an older attraction, of course. It jolts you around like crazy, but it's still an epic experience. I was thrashed through two different Star Wars locations/scenes: Podracing on Tatooine, and later, flying–and swimming–through Naboo. But thanks to motion sickness, I was a wreck by the end of the ride, despite reminding myself to just breathe and enjoy the ride…and thrashing. Luckily, there were places to sit in between the ride itself and the Tattooine Traders gift shop, which I definitely took advantage of. 
Oh, and Josh got to be the rebel spy! 
After recollecting myself and the motion sickness died down we headed to Galaxy's Edge, because I felt confident enough to try Smuggler's Run–a.k.a the Millennium Falcon. Walking through the line was insane, and I seriously felt like Han Solo walking through the Falcon. I wanted to cry. But unfortunately, just before Josh and I got on, the anxiety kicked in, and I definitely didn't want to get motion sick twice in one day. So I asked a nearby Cast Member for advice/reassurance, but she told me that the Falcon was very similar to Star Tours (which Josh, and pretty much everyone else I've encountered, strongly disagrees with), so we decided to exit, and head elsewhere.  
It was starting to get dark, which meant that the park was closing in a matter of hours, and there was no time to lose. We headed to the Chinese Theater to ride Hollywood Studios' newest attraction, Mickey and Minnie's Runaway Railway, where the late, great Great Movie Ride was once encased. I definitely paced back and forth between the Falcon and Runaway Railway, because on one hand, I was really gonna regret not going on the Falcon once I got home, but on the other, motion sickness is tough to deal with. We ended up on Runaway Railway, and I really enjoyed the new animatronics and fun effects. It was a dark ride that had us walk through a movie screen to become one with a Mickey Mouse cartoon. Loved every minute of it. 
Another cool thing was that like at the actual Chinese Theater on Hollywood Blvd., there were real autographs in the cement out front, so seeing the Hancocks of Jim Henson, Billy Joel, and George Lucas, just to name a few, was exhilarating.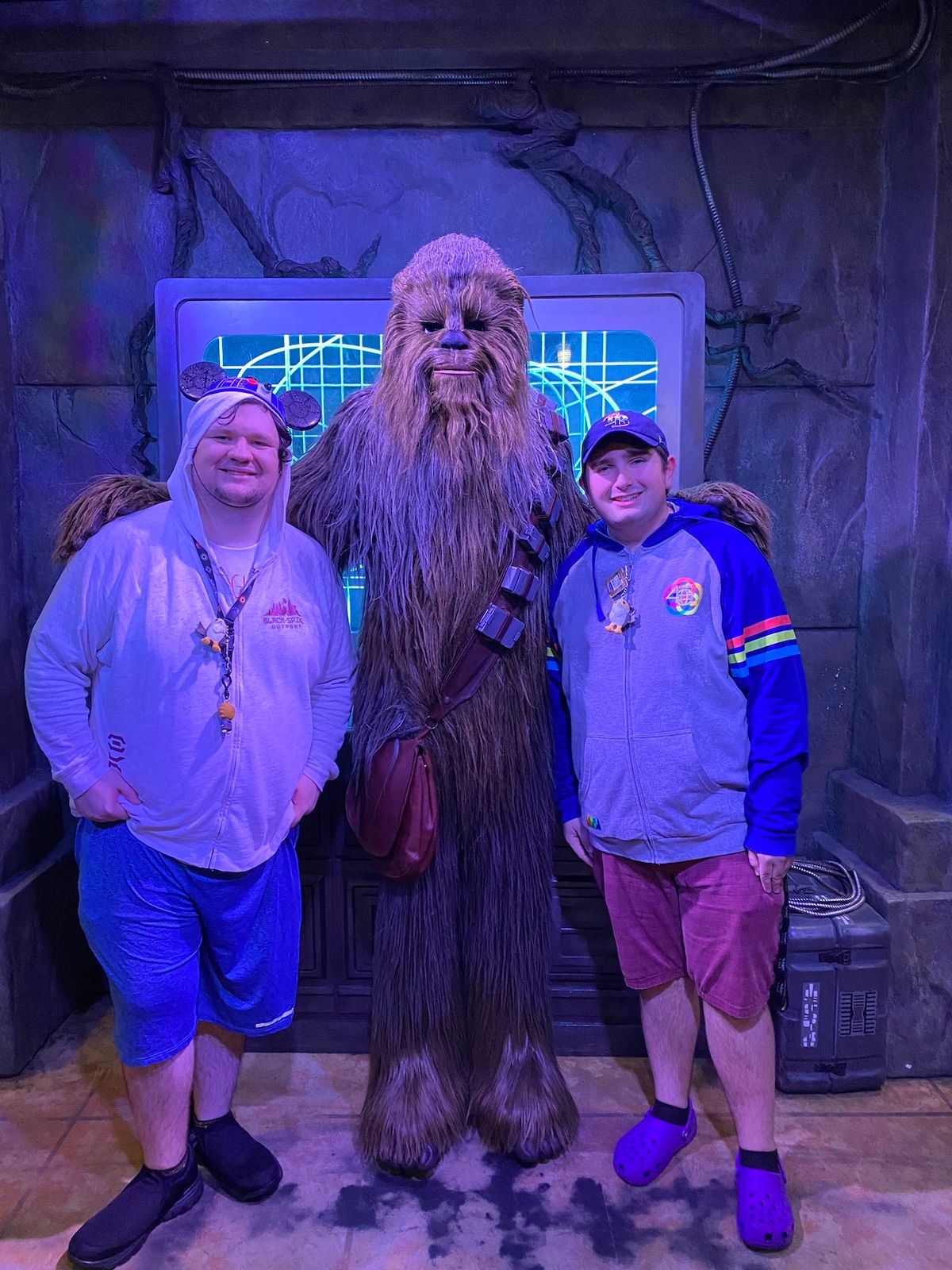 Time was ticking, so we decided to check out Walt Disney Presents, which was once Josh's favorite attraction in the park. I had fun learning about Walt himself and where he started. Controversy aside, wow. What a ride to watch a legend in business. I also enjoyed our brief interaction with Sully from "Monsters Inc." at the end. Walking into that room in the very back of the building was an insane enjoyment. 
Ten minutes before Hollywood Studios attended its 6:00 bedtime, I was on a major high from getting to hug Sully, that I wanted to meet some others. So, Josh told me about a place where we could meet Star Wars characters, specifically BB-8, Chewbacca, and Darth Vader. I love the soccer ball droid, but I wanted to hug a Wookiee, damn it! Oh, and to be intimidated by Darth Vader encouraging my friend–in full Kenobi mode–and I to join the dark side. "Goodbye…Darth," Josh said on our way out from meeting Lord Vader. "'Til we meet again," he replied. I think Josh is the only one who got that Obi-Wan Kenobi reference. Nerd. 
After verifying with Guest Services that there was still a good chance that the parks would be open–just a little later–the next day, we headed for the park exit, and Josh took me to one of the coolest pizza places ever. I definitely can't say it was the best ever, being a Connecticut boy and living near three of the best ones—Modern, Frank Pepe's, and Sally's—but I had never tried Chicago deep dish before, and knowing how much Josh worships it, how bad could it be? 
I wasn't chafing at all (thanks, Glidestick!), so I was more than up for trying Giordano's. We got some mozzarella triangles to share, and then for entrees, I tried the chicken parmesan, while Josh got his standard: A small deep dish pie with chicken breast, bacon, and jalapeños, which he was kind enough to give me a slice of. 
We checked into our room at the Fairfield Inn & Resort, got out of our wet clothes, and I taught Josh how to play Blackjack while we sat around in our tank tops and shorts, stoked about what the next day would bring. 
11/10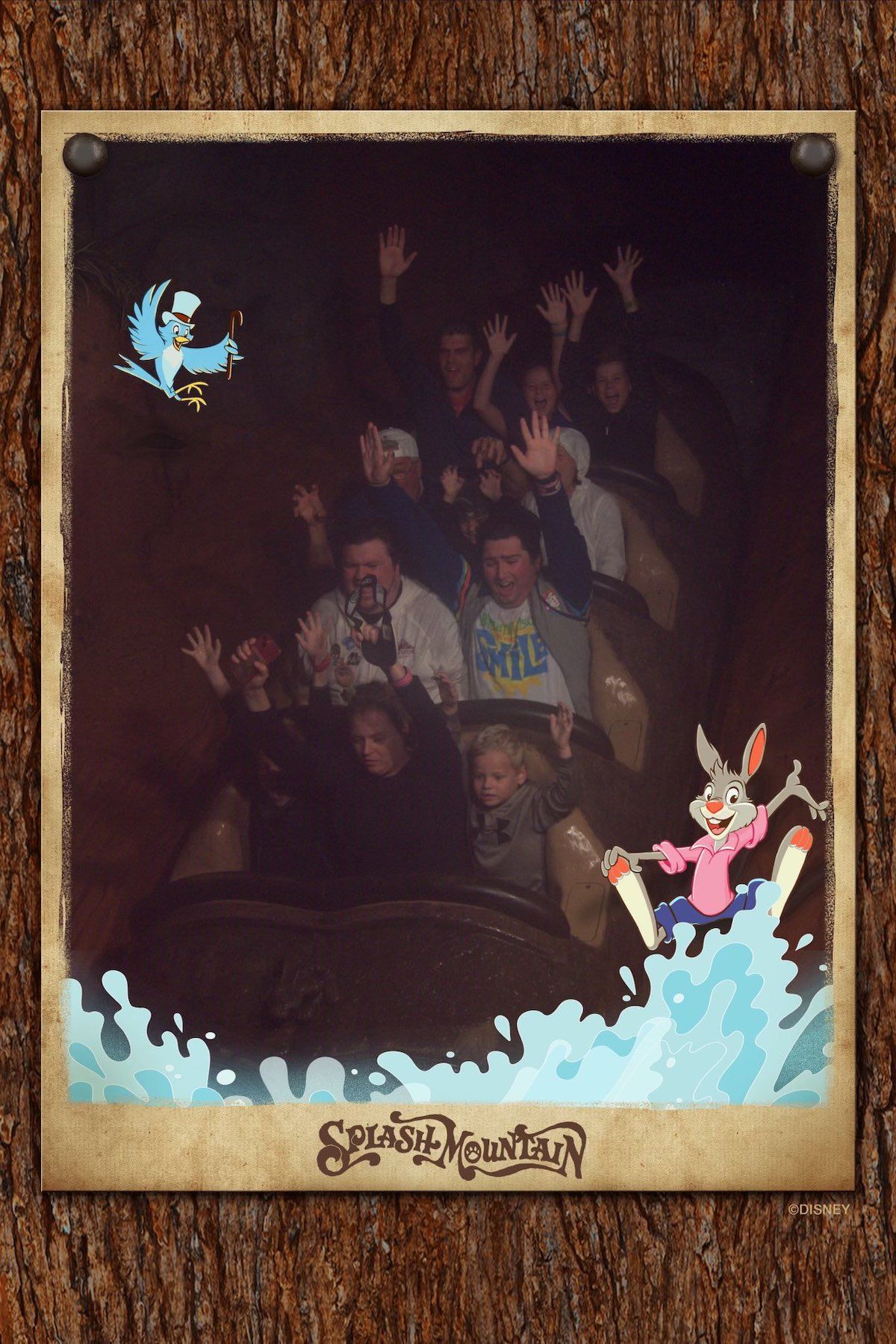 Thursday morning, there was indeed a tropical storm passing through, and the Disney parks were still scheduled to open at noon, once things calmed down a little bit. But the parks weren't closing altogether for the day, and that's really all that mattered. 
One of the amenities we looked for when booking a hotel was free breakfast. Sure enough, our hotel had complimentary eggs, sausages, and pastries, as well as oatmeal, coffee, and most significantly, a Mickey Mouse waffle iron with premade batter.  
After eating, we walked around outside for a few minutes to feel the hurricane winds that were blowing, but soon piled in the car and headed for Magic Kingdom. The rain calmed down as we sat in line for the parking lot to open, but the wind was still blowing strongly, causing the car—which was set in park—to automatically move forward towards the car in front of us. I could feel Josh's heart jump from where I was sitting. It was a rental, after all. 
Once we parked and got through security, we hopped onto the monorail. The resorts monorail—which would take you to two different Disney resorts before stopping at Magic Kingdom—was closed, so we took the more crowded one that headed straight for the park. Josh said that he hadn't done that in years, so it was a new experience for the both of us, I guess.  
One very obscure thing that Josh and I have in common is that our families (well, Josh's parents, and my mom's cousins Christie and Bobby, anyway.) both had a Disney monorail setup underneath the Christmas tree every year, so on my end, it was amazing to see what my family had under their big Christmas tree in real life. 
At last, we had made it to the park. Check-in was so much cooler than yesterday. I decided to buy a MagicBand to connect to my park pass, as opposed to my gold R2-D2 ticket I was given yesterday. Josh and I took some pictures of a family in front of the Mickey head topiary and train station out front, in exchange for them taking pics of us. The Christmas tree present upon entry to Main Street USA was breathtaking, but once I saw Cinderella Castle…mental tears, man. 
We got a few more pics a little closer to the castle, and headed straight to Fantasyland. I mentioned wanting to do Peter Pan's Flight, and Josh insisted that we get that one out of the way first and foremost. It generally has an outlandishly long wait time, so the earlier, the better. On the way there, we passed Seven Dwarfs Mine Train—another attraction with crazy wait times—which only sat at 25 minutes. Josh exclaimed out loud how insane that was, and a nearby Cast Member heard him. The Cast Member explained that because of the storm, she suspected that the park was going to be dead all day, which was the best news ever.  
Lo and behold, Pan was literally a 10-minute wait. That one was an amazing dark ride that made you feel like you lost your shadow and needed to get it back, as you watched the events of "Peter Pan" unfold. Not to mention it feels like you're actually flying in a pirate ship, too. 
Josh understood my boundaries, but because of my on-and-off desire to conquer Splash Mountain, we agreed to take on a few small-scale roller-coasters before we encountered that giant, watery drop that will soon take a year's nap. So because of the freakishly short wait time, we headed for Seven Dwarfs Mine Train. 
I was telling myself "I can do this, I can do this" while we practically walked through the line. But once we were up and in the cart, the nervousness hit me again. Luckily, Josh reminded me that it was all good, and plus, there was a little kid in front of me who was ultra pumped, which definitely made me feel better. It's kids like that who make you wonder when you lost your fearlessness, but in the end, I absolutely loved the ride, and was definitely ready to take on more coasters like that. 
We got lunch in Fantasyland, took on a few smaller rides (The Many Adventures of Winnie The Pooh, Under The Sea: Journey of The Little Mermaid), and took it easy for a while. I enjoyed Mermaid's animatronics, and was just enthralled at how they make this magic happen. I think the Under The Sea segment was my favorite part. 
Haunted Mansion was a great experience, too. All Josh could talk about was how Disneyland in California temporarily rethemes their version of the ride to "The Nightmare Before Christmas" every year during the holidays, and that that ride specifically was the highlight of his trip out there last year. 
After the ride, I ended up buying some leggings by accident, thinking they would be good for bed use. But they were kinda meh, so I ended up giving them to my mom once I got back home. I also enjoyed the Country Bear Jamboree once we got out of the gift shop. What a classic. 
Josh and I then decided that we had had enough of the slow rides, and we needed a bit of an adrenaline boost. Not to mention that time was ticking. Magic Kingdom closed at 6:00 that night, due to Mickey's Very Merry Christmas Party taking place, and being a separately ticketed event. Neither of us felt like paying an extra $200 apiece just to stay in the park for a few extra hours, so we had to squeeze whatever we could in ASAP. 
So we tackled Big Thunder Mountain Railroad first. Like with Seven Dwarfs, the nervousness kicked in around the time we got onto the actual ride, but I knew that this was the build-up to Splash Mountain. Sure enough, by the end of it, I was in love with it. Truly the wildest ride in the wilderness.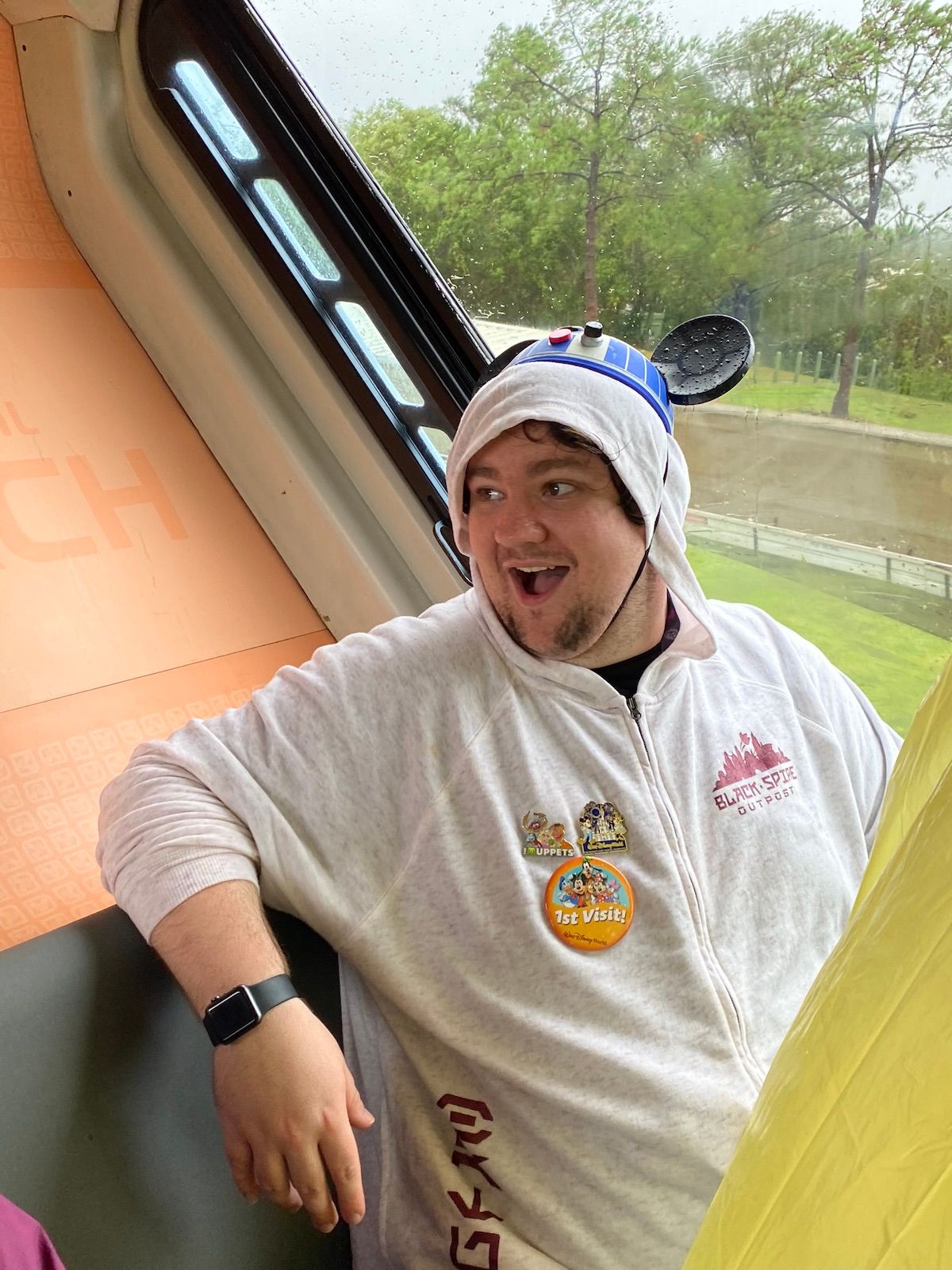 I was told that Pirates of the Caribbean had a drop, but it was pretty mild compared to Splash Mountain. Like with Rise of the Resistance yesterday, Josh told me that he'd warn me when the drop was about to happen. I felt nothing for the most part, and the ride just kept on getting better and better. It all felt so real: The cannonballs, the pirate ships, and especially the smells of burning wood and such really amazed me, making Pirates my favorite ride I did at Disney altogether. 
By the time we got off, it was an hour until the park closed, so we had to jump on Splash Mountain quickly, which to our luck, only had a five-minute wait. 
I came to discover that in order for me to get onto a big ride like this, I needed Josh, and a fearless kiddo in front of me, as a reminder that if they can do it, so can I. Luckily, I had two excited kids in front of me, and Josh—neutral as always—right next to me, so I knew I was good to go.  
The first few drops were tiny, and totally manageable. They were good preparation while I was brought around the animatronics of years past. One of the medium-sized ones felt a little intense, and I definitely wasn't ready for it, so I began to worry about that last, 50-foot drop where our reactions would be immortalized via photo. In the end, all I had to do was scream my ass off, and it would be over in three seconds. Sure enough, that drop was so great, I wanted to go again. I'm a little bummed that the ride is being rethemed, and that those Song of the South animatronics won't be present when I return to Magic Kingdom, but I'm still ultra excited to check out the "Princess and the Frog" version of the ride when it opens. 
It was 5:30 when we got off, meaning we had time to do one more ride before we had to bail. I was full of adrenaline, so I decided to take on Space Mountain, one of Disney's most intense coasters. I loved it, but I definitely wouldn't do it again without motion sickness medication. I still loved being in space in the dark, though! 
As I mentioned before, Mickey's Very Merry Christmas Party was taking place at 6:00, and from that point on, you had to have a separately purchased ticket to that in order to stay in Magic Kingdom until its closing time. So, not only did we lose three hours yesterday at Hollywood Studios, but with the park opening late and closing early today, I lost a grand total of 13 hours in Disney across both days, which is in itself, a full day on its own. Josh deemed this immensely unfair, but not entirely Disney's fault, since no one really knew about Hurricane Nicole, or the Christmas party times when we were booking tickets. So once I felt comfortable walking again, which was after the park closed to us non-Christmas party peasants, we headed to the line for Guest Services to see if they could make it up to us. 
When we got to the desk, Josh started off by telling the Cast Member how he felt I got jipped out of my tickets. From there, I explained the whole situation. I am by no means a Karen (and rest assured, we were both incredibly nice to every Cast Member we encountered), so at first, I felt a bit weird complaining. I mean, I was at Disney: I was truly happy, and the rides we got to do surely made up for the weather. But that having been said, with a price tag of over $100 per park when it was closing early really did bum me out. And plus, mainly due to the storm, I didn't get to see the fireworks as I had hoped to. 
All of the next day's reservations for every park were already taken, sold out. So, Josh wasn't terribly hopeful. But the Cast Member we spoke to ended up pulling some strings, and set us BOTH up for a complimentary day at Epcot the next day! We couldn't believe it. 
I was stoked, but also very tired, so I requested we head back to Giordano's to get dinner. Josh was cool with it, but was also bummed that we wouldn't get to hit Disney Springs this trip, and see the Lego Store like I wanted to. I agreed to head there instead, but I was still getting increasingly exhausted. 
I don't know where the hell Josh gets his energy from some days, because not five minutes into our time at Disney Springs, I was an utter mess. 
I thought I had my issues under control, and for the most part, I was doing really well for someone who had to get off psych meds and start working on their weight at age 23. Josh ended up having to give me some space for a few minutes, but we got a couple of sausages on the other side of Disney Springs, and we both started to feel better. We hadn't really eaten since noon, and I think that was a big part of why I freaked out. 
We briefly popped into the Lego Store, which I enjoyed, but I desperately wanted to head back to the hotel, which we did immediately afterwards. 
Once we got back, I told Josh that I needed some time in the hallway to breathe. 
I was feeling lost in my head. Maybe it was the exhaustion, the worry, or just the annoyance that I couldn't feel this passionate excitement every day back home. Basically, I had a breakdown in the hotel hallway. Thankfully, there weren't many people around, and I ended up calling my mom, because I was starting to feel suicidal. She calmed me down after a while, and headed back to the room.  
I told Josh everything that had just happened, and was even considering flying home early. It was just a really shitty night. But I ended up forcing my anxiety-ridden self to a shower and sleep was very soon after.  
Just keep fighting, yo. And I want to take now to extend a massive thank you to my mom for getting me back on my feet. 
11/11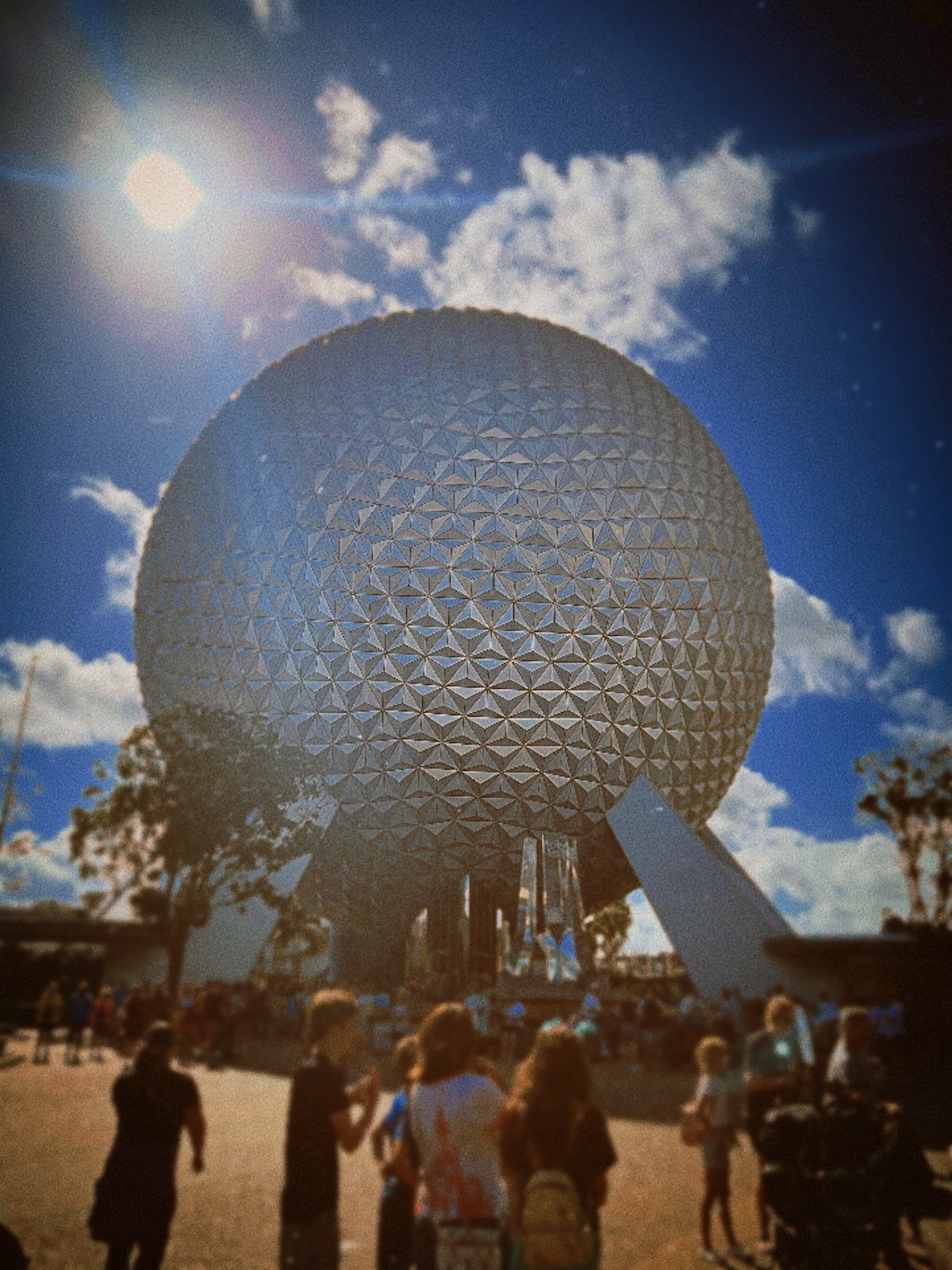 I woke up feeling a hell of a lot better. We slept in a tad bit, got breakfast, and checked out of the hotel. It was actually looking like a really nice day out. Unfortunately, Josh woke up feeling like crap, health-wise. Stuffy nose, sore throat, etc. Initially, we thought it was due to sleeping with the AC so close to his bed. But it turned out to be a mini-head cold. 
Nonetheless, we soon headed for Epcot, and agreed to take it nice and easy during the day, but also to use our time wisely. 
Because Nickolas Wheeler—guitarist for the All-American Rejects—will soon be interviewed on my radio show, Unlikely Places (check us out!), he was kind enough to provide a few complimentary tickets to the Rejects' gig in Orlando that night. It was to take place at Hard Rock Live, over at Universal CityWalk, where I've never been, and Josh hadn't been to since he was high school. 
Back to Epcot, though. We ended up only doing one ride: Spaceship Earth, which you had better not call "the giant golf ball" in front of Josh, because he'll probably punch you in your golf balls. 
That ride was insane. I loved every moment of it, especially the part where you're in space and you see Earth. Amazing! 
Josh and I had a discussion about how to spend our day: Rides and attractions, or the annual Food and Wine Festival, which closed that weekend? We went for the latter, and headed for the World Showcase, where it was taking place. I ended up munching on a corn beef dish in Future World, which Josh bought each of us, being his favorite dish. I also had chicken dumplings from China, and on a non-festival note, we each got some amazing pizza from the Italy pavilion. I also got a mini glass of wine, but Josh decided not to, since he had to drive. Sucker! 
While we were enjoying our pizza and wine, from out of nowhere, lightning struck really closeby. The thunder came around about 0.5 seconds after the crack of lightning hit. We wish we could have stuck around to see Kenny G perform live as a part of Epcot's Eat to the Beat concert series, but we did have another stop to make, so we finished our pizza and quickly made our way towards the exit. 
Another thing Josh and I share closely is "Kingdom Hearts," of which he has a phone case of, courtesy of Disney Springs. I wanted one really badly, not only because of the theme, but Josh also demonstrated how safe and durable the cases are. So, we headed for the Springs, but decided not to stay for terribly long, so we could make the show on time. I ended up settling for a "Muppet Show" themed case, mainly because I'm more than confident that the Muppet Studios would totally hire me to be the new voice of Kermit The Frog if they could. Matt Vogel just has too much on his plate, man! 
Ah, but wait: There's still one more stop to make before we make it to the Rejects gig.  
One of my collaborators on my RXX Pleb project is a musician named Somber Mercy, based in Melbourne, FL. So Josh and I planned way ahead of time to meet up with her for dinner. We found a spot about 20 minutes away from both Disney and Universal, called Fresh Kitchen, where you can basically make your own protein bowls. I loved the idea—and Somber and her friend, Christian were incredibly pleasant to talk to—but I think there was something in those mushrooms. Ack. 
Josh was still feeling like crap health-wise, and was getting anxious about the late night, two-hour drive back home that night. But Josh being Josh, he quickly pulled himself together, got us to the venue safely, and we were ready for a badass night of rock and roll. 
"City Walk has me clank clacked on this rollercoaster/Life hits harder when you're alone on the inside" - Jebb, City Walk (Single) (coming soon)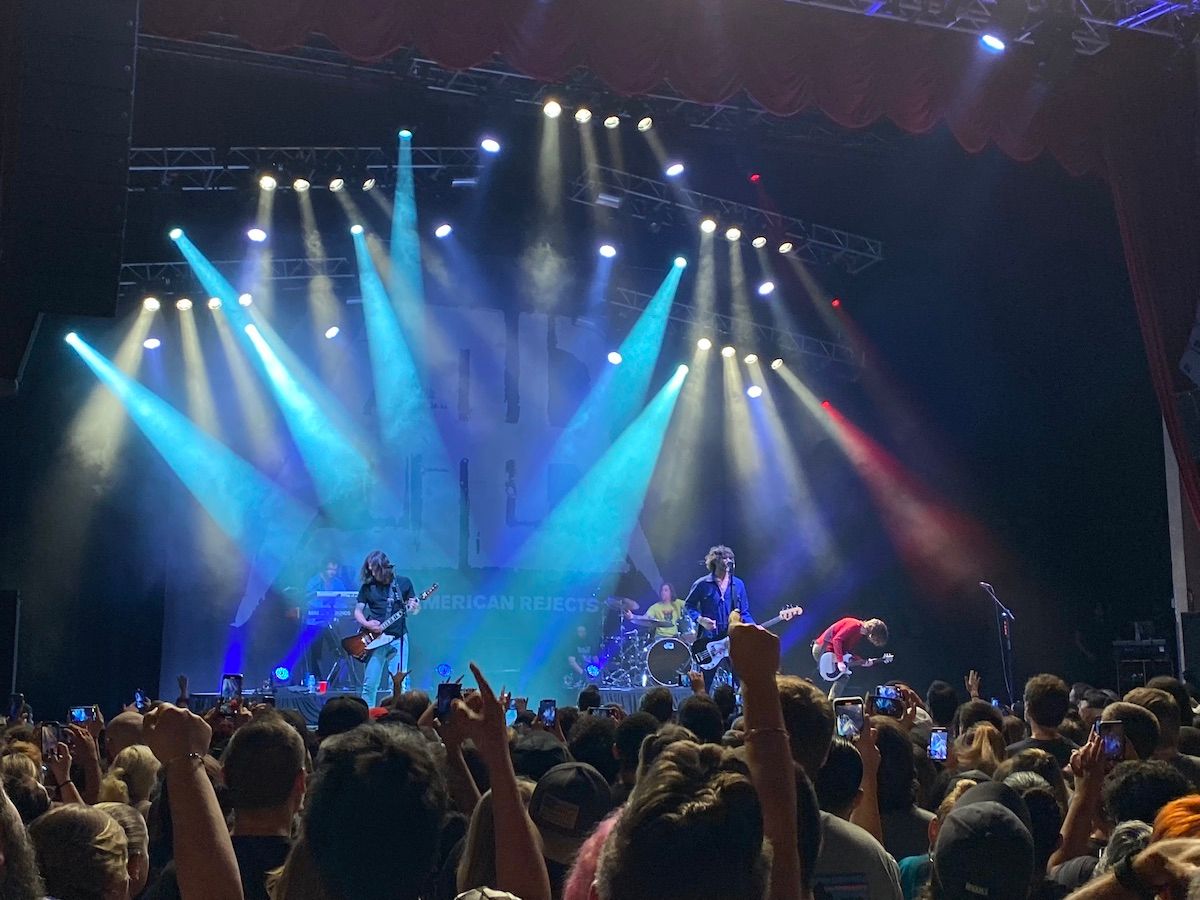 I'll admit, I'm a little sad that I didn't get to hit Universal this trip. But at the very least, the park's not going anywhere, and I want to hit it up next time for sure. 
Before we knew it, we parked at CityWalk, got through security, and made it to the Hard Rock. It was massive! Unlike any Hard Rock I had seen before. What a feeling to tell the will call person that I was a friend of the band, and on the guest list. I was on fire with confidence. 
Josh and I got our tickets, went through a second security check, and headed in to the pit, with a few thousand people already singing to a Weezer cover being performed by opening act White Ferrari. Finally, for the first time in my life, I actually felt home. I felt free from anxieties. I felt safe there in a crowd of 3,000 people. I felt I was me. At 9:00 on the dot, the lights went out, and all I could hear was the All-American Rejects tuning and taking the stage. 
"Nick!" I yelled as he came out. There he was: The man that got us into the gig in the first place, about to help us party down and enjoy ourselves. And what a setlist, too! 
Josh was grooving to his own level, but I knew he was thoroughly enjoying the show. As for me, I mingled pretty much the entire time, mostly with these two girls standing next to me. We chatted sporadically during the band's set, and afterwards, I convinced the security team that Nickolas Wheeler was cool with coming out to meet us. So for about a half hour, it was us four, getting to know each other a little bit. Unfortunately, we didn't get to chat with Nick after the show, but I had a brief interaction with rhythm guitarist Mike Kennerty. He tried to get Nick to come out, but for a number of factors, it didn't work out. Josh and the two girls I met weren't pissed or anything. We just got to see them live, and at the end of the day, we got what we came for, and the band did its job. We're good. 
Unfortunately, I lost touch with the girls from the show, but I wish 'em all the best in life. 
Once we bade the girls farewell, Josh and I sat for a few minutes, and his mom begged him to get a hotel for the night. I wanted one too, because not that I didn't trust Josh to get us  home safely, but it had been a long few days, and I would rather sleep in an actual bed than the air mattress he had me set up on at his house, upon our arrival back at 2 a.m. Josh's only concern was how expensive everything was, but that's just Florida, I guess. So in the end, he booked us a last-minute room at a nearby Delta Hotel. It was what it was, I guess. A safe place to sleep, which is really all that mattered. 
11/12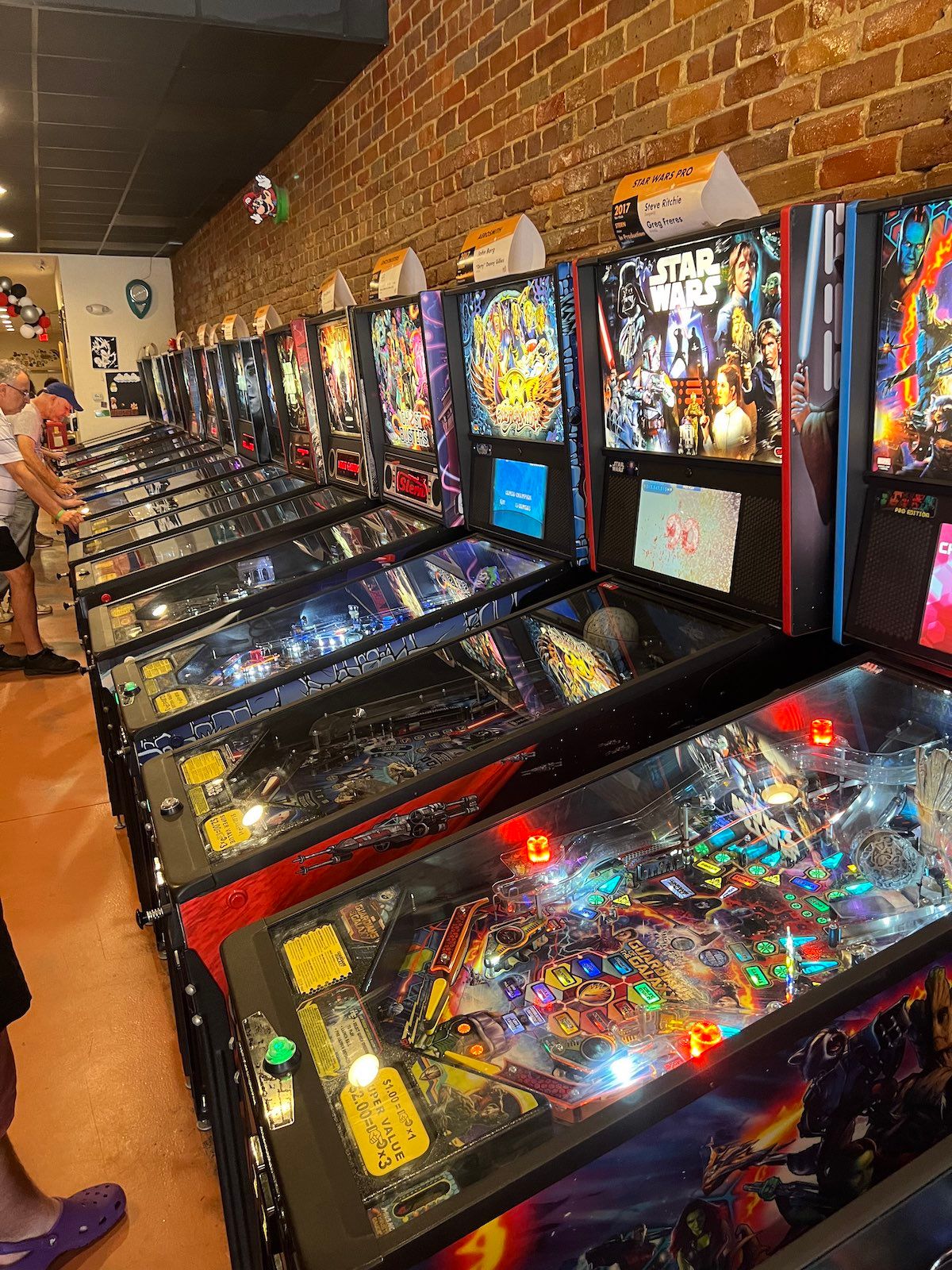 The weekend had dawned in, and it was finally time to get back to Tampa Bay, despite my dealing with the lovesickness of the past night. The feeling just would not fade.  
Anyway, we checked out of our hotel, and headed to Maple Street Biscuit Company, which sells chicken sandwiches on biscuits. Absolutely brilliant food! Their way of calling out an order is different than just them asking for your name, too. It was Thanksgiving time, obviously, so the question the cashier asked was "what celebrity would you like to have at your Thanksgiving?" I said John Lennon, but the cashier thought I said John Wayne, which is what she ended up putting down. But you know what? I wouldn't mind having him either. Josh said Howard Jones, as one does. 
Josh and I then had an easy ride back to his house, jamming to his Beatles/Beach Boys mixed playlist. As soon as we got back to his house, I crashed on the couch. I showed him one of my favorite movies, "White Chicks," and around 3:30, Josh and I headed to an arcade in Tarpon Springs he had told me about time and time again. 
Seriously, talk about living in a retro dream. 
Replay Amusement Museum encased an endless supply of pinball machines and arcade cabinets from an era I want back. I was still lovesick, so it was an 80s movie for me as I gained 56 million points on the Mandalorian pinball machine. 
Before long, we headed home, but decided to come back later because that's the beauty of Replay. You pay a fixed price for a wristband, and as long as you keep it on, you can leave for lunch or dinner, and come back later in the day. The color of the wristband changes every day, so don't try sneaking in tomorrow. 
Josh's dad was making dogs and burgers for dinner, which we chowed down on as we told him and Josh's mom about the adventures we encountered. 
After dinner, we were ready to head back to Replay, but Josh's brother Ian wanted to tag along, which he did. We played until I wore myself out around 9:30. 
11/13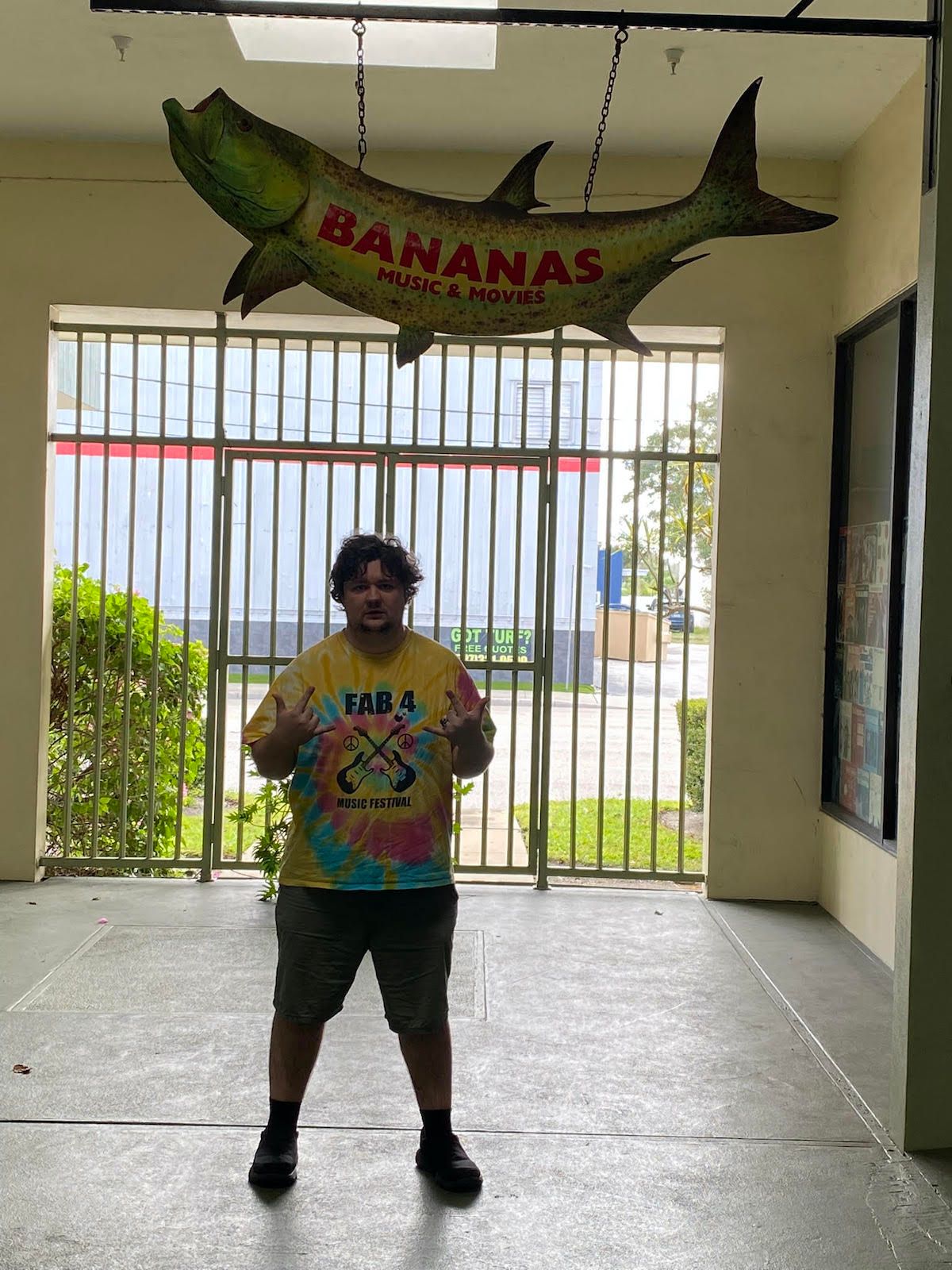 Josh and I met through Instagram in 2016. We were both outcasted kids with a bunch of records and a record player, and that's what ultimately brought us together. It was only natural that during my first visit to Florida, Josh would take me to a few of his favorite spots to dig. I took him and Owen Radford (not on this trip, sadly) to a few of my favorite spots in Connecticut this summer, so it was Josh's turn to return the favor. 
Before we hit the road, though, Josh's dad put together a glorious charcuterie board for breakfast with crackers, sausage, like four different kinds of exotic cheeses, and some of the greatest coffee I've ever had. Apparently, this is a common ritual in Josh's house. Maybe I should take it up. 
Our first record store stop was Kingfish Records, which is Josh's primary record shop, as it's the closest to his house. It wasn't looking like I was going to get much of anything, until Josh directed me to the Tommy James section, which I practically sucked dry, with everything being so cheap and all. Josh got out with The Cars' debut album and nothing else, mainly because he knew what was next would suck us both dry. 
He hyped up a store in Clearwater—maybe five minutes away from Kingfish—that was absolutely packed with rarities and common albums, for really fair prices. Clearwater Record Shop was our stop, and sure enough, I found myself gaping at what I found in the bargain bin. 
I'm not as conservative about vinyl condition as Josh is, so I didn't care if the $2 copy of Sparks' "Kimono My House" had a cover split at most seams, and even a little bit of mold. I had found Sparks in a bargain bin, and those are words I never thought I would say. I found a few other gems, but most significantly, Josh found me a copy of Tommy James and the Shondells' Crimson and Clover for $20. It was an insanely clean copy too, which is why I didn't mind paying so much.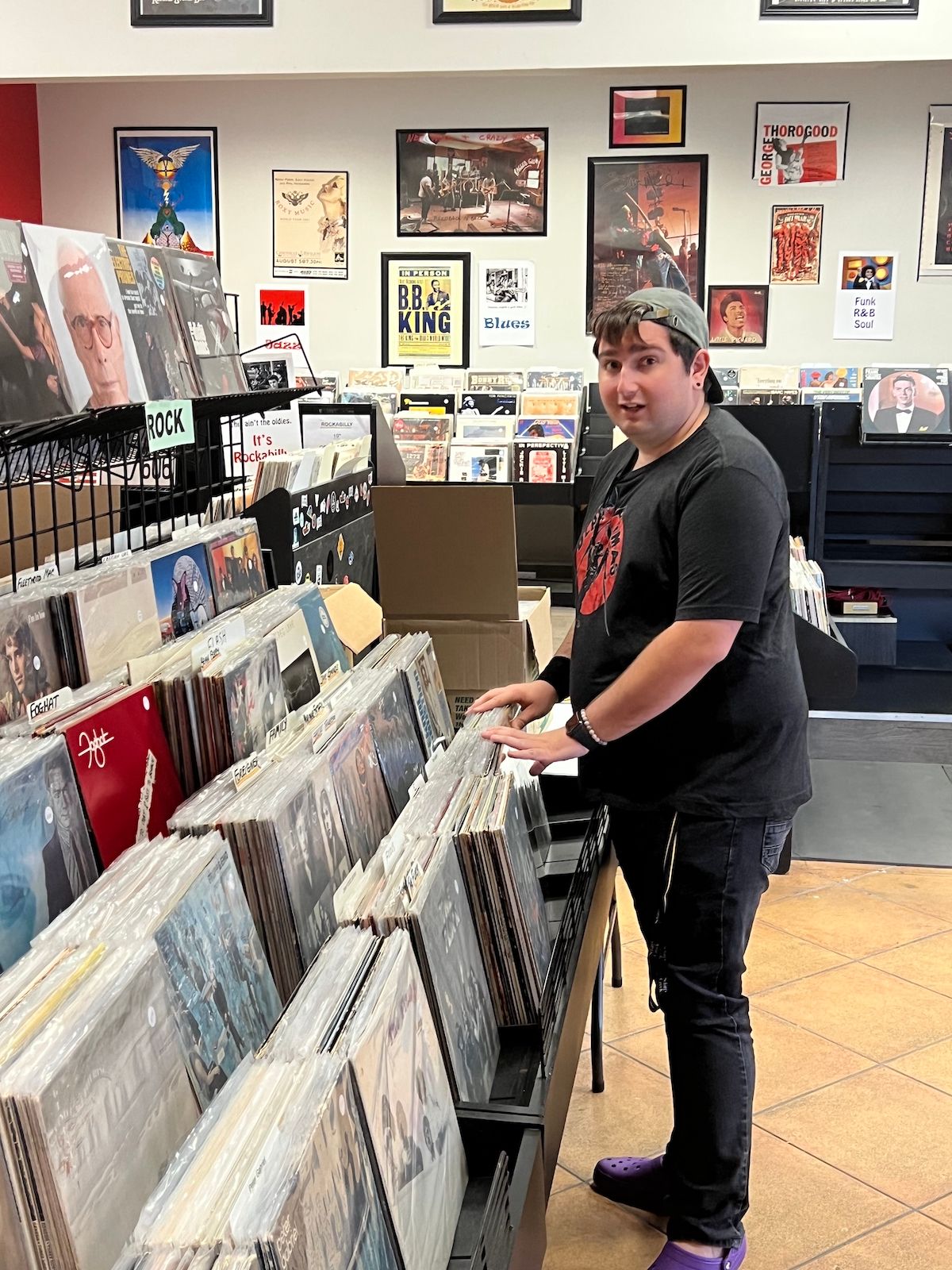 I also left with a Beatles wallet for my dad, which Josh claims to have once owned. The guy at the record shop was asking for $15, but was nice enough to lower the price to $10. 
We stopped for some drinks at 7-11, and headed for St. Petersburg, where Bananas Records stood. 
I ended up picking up a copy of The Who's Live At Leeds with all the inserts, an upgraded copy of Alice Cooper's Billion Dollar Babies, with the billion dollar bill inside, and the "Magic Christian" soundtrack, featuring Badfinger's "Come and Get It." The shop's backroom was absolutely insane, too. Thousands of bargain bin—albeit mainly Goodwill quality—records for $1-$3 apiece, as well as books and opera box sets. But I was getting tired, and after what happened in Disney Springs earlier in the week, Josh took that as a sign that it was time to wrap things up. 
We stopped for some Wendy's on the way home, as well. Josh's dad made fajitas for dinner, and from that point on, Josh and I pled to spend my last 36 hours in Florida in complete chill mode. 
11/14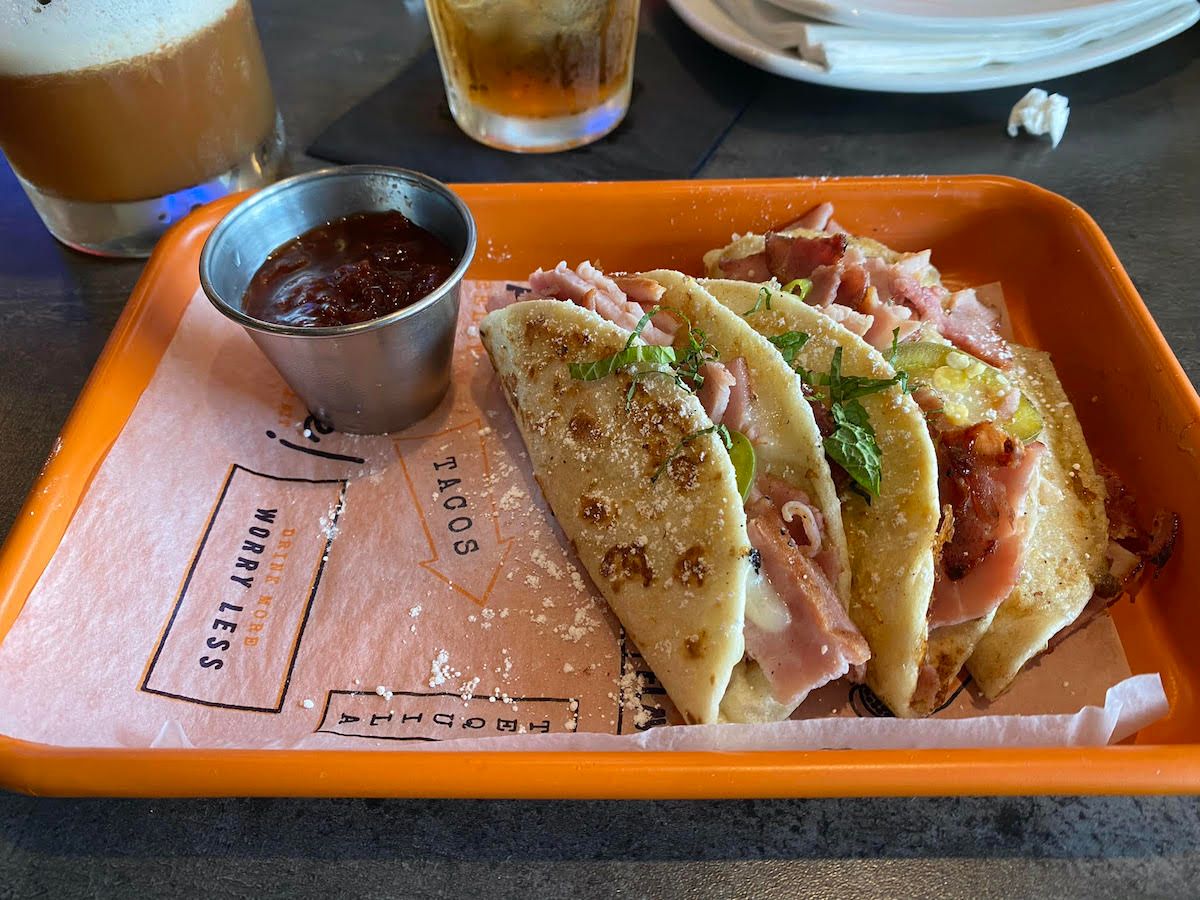 I only had 24 hours left before returning to my life in Connecticut, but it was no secret that Josh and I were beat. So on Monday, he took me to Shaker and Peel, the sister restaurant of that one place we went to when I flew in, Craft Street. Remember that? No? Scroll up, sucka. 
Shaker and Peel sells fusion tacos. In other words, nothing like Taco Bell, and they put things like chicken and pork belly in their tacos, as opposed to ground beef and cheese (which I'm sure you can ask for anyway.) Josh and I both got adult beverages (don't worry: Josh drank water and ate like crazy): His was a chai based whiskey drink, and I got a Strawberry Fields margarita. As for the food, I went after a taco trio, consisting of volcano shrimp, Tampa hot chicken, and kobe cheeseburger. Instead of the latter, they actually brought me the Korean BBQ beef taco, but I didn't mind. All three were absolutely amazing to say the least. 
Josh got something from the specials board, a trio of Monte Cristo tacos. Look it up, baby. 
We got back to his house, and we shared the TV for the afternoon. I would show him an episode or two of "Regular Show," and in exchange, he'd show me an episode of his favorite show, "Schitt's Creek." I was pretty much in snoozeville by the time the town sign was "fixed," though. 
We spent the rest of the day just talking and listening to our records, which I can't complain about at all. It was a pretty relaxing way to end a trip, actually. 
11/15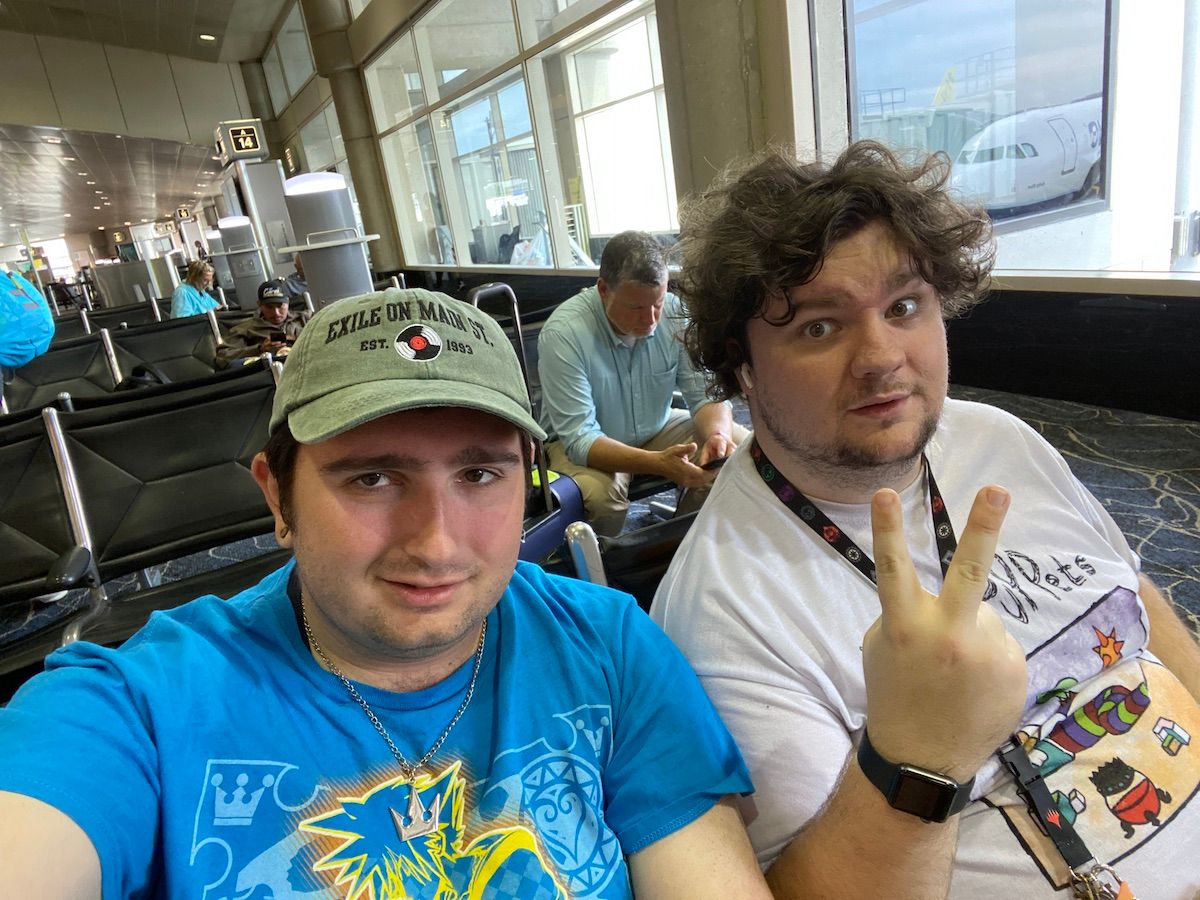 The day had come to fly back to Hartford, so Josh and I piled in the car around 9 a.m. and headed for Tampa International Airport, to ensure that I didn't miss my 11:50 flight. We stopped at McDonald's for breakfast on the way so I could eat another Big Breakfast with Hotcakes, just like I did the day I flew to Tampa. Josh didn't eat anything, as he was really craving Chick Fil A for some reason. 
Upon arrival at the airport, Josh got his food, and we sat and reminisced about the last week for a little while. JetBlue was even kind enough to issue Josh a gate ticket so he could accompany me to my gate once the time had come to board, which he did. 
Oh, and I actually heard a Silversun Pickups song before heading to the gate, which was significant for a number of reasons. For one thing, I attended a gig of theirs right before flying out, and I met up with my friend Frankie Siragusa, who happened to be a tour tech. And also, the day I left Florida, the band was set to play a show at Jannus Live, over in St. Petersburg. Coincidence? I think not. 
The flight back was a bit more turbulent than the one in. It may have just been the mixed emotions of wanting to go back home and wanting to stay at the same time. The trip was a lot, truly the biggest emotional rollercoaster I have ever been on.  
My ears were screaming during the descent back into Connecticut. No matter how much I chewed that gum, it hurt. My ears just would not pop. It was fantastic to see my dad once I landed. We went out for a meal and needless to say, I was exhausted once we got home. I did have enough energy to share my stories with my mom, and of course, I thanked her for getting me through that rough patch I went through Thursday night. 
I am really thankful for everyone who helped make this week possible, and I'm grateful to be alive. Also, here's a friendly reminder to take it easy on yourself, and above all else give yourself a hug once in a while. Maybe a pat on the back. Whatever fits your fancy. 
Oh, and don't forget to tune into Unlikely Places Pop and Rock Radio every week. 
Thanks for listening. 
Jebb