Listen in here:
https://www.mixcloud.com/Unlikely-Places-Pop-Rock-Radio/upprrxmwr-049-half-n-half-now-with-a-serving-of-robo-jack-sotw-dynastyfour-forthecats/
Hey, guys.
I'm starting to see a little bit more of you as the days go by. Hopefully, I'll be out of here soon. 
Last week's radio show was a hoot. Don't believe me? Check out the top 10 chart: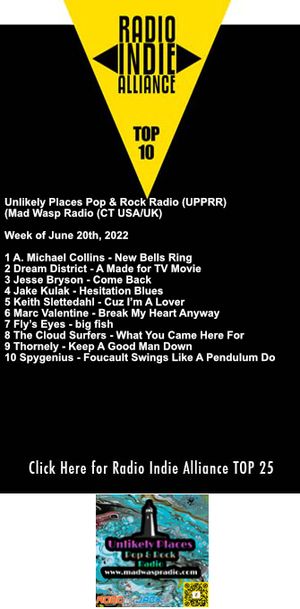 You can listen and read about it here: 
https://robojackrecords.com/unlikely-places-blog/blog/unlikely-places-trapped-inside-4
This week, we have a summer theme going. I'd do anything to have another school-style summer vacation. You know, hanging by the pool with my family, or just chilling with my band, The Sane Riot. But, I guess this is as close as I'm gonna get. 
On the bright side, the Robo Jack Records boys are joining me on air this week! Usually, the Robo Jack Music Hour airs once a month, but the guys will be airing alongside me! Hope that isn't a problem. Actually, I don't care if it is. 
In one way or another, this is a key: Either a key for me to get out of here, or a key that will lead you through the door into summer. Tune in, won't you? 
UPPRRXMWR 049 "Half & Half with a Serving of Robo Jack" (SOTW: DynastyFour - ForTheCats) 
Air date: 
June 21st, 2022 6-8 pm GMT/1-3pm ET/ 10-12pm  PT (Tuesday) 
Re-airing: June 24th, 2022 8 am GMT/3-5am ET/12-2am PT (Thursday):
https://www.madwaspradio.com/ 
Official Unlikely Places Website Page Here: 
https://robojackrecords.com/unlikely-places-pop-rock-radio 
 
Posted after to Mixcloud (Thursdays): 
https://www.mixcloud.com/Unlikely-Places-Pop-Rock-Radio 
Podcast here: 
https://anchor.fm/unlikely-places-podcast 
Tracks: 
Counting Crows - Accidentally In Love 
The Rolling Stones - We Love You 
The Lemonheads - Mrs. Robinson 
Thunderclap Newman - Something In The Air 
Jebb (feat. Frankie Siragusa) - Isolated Dew (UPPRR OFFICIAL INTRO SNIPPET) 
Alien Ant Farm - Smooth Criminal 
Rogers & Butler - Brighter Day 
Soccer Mommy - newdemo 
The Offspring - Want You Bad 
The Records - Starry Eyes (Live) 
Yesterday's Children - Sailing 
Spygenius - Foucault Swings Like A Pendulum Do 
The Beach Boys - Surfer Girl 
DynastyFour - ForTheCats 
Sum 41 - In Too Deep 
RJR MUSIC HOUR 004  
10cc - The Things We Do For Love 
Joe Satariani - Summer Song 
Eddie Cochran - Summertime Blues 
The Monkees - You Bring The Summer 
The Beatles - Dear Prudence 
Harvey Danger - Flagpole Sitta 
Nick Holder - Summer Daze 
The Beach Boys - Spring Vacation 
The Hit Parade - See You At Seaside 
Finger Eleven - Paralyzer 
Jonathan Richman - That Summer Feeling 
Jebb - Change of Seasons 
Unlikely Places Returns 
The All-American Rejects - Affliction  
Duane Betts - Taking Time